ForceDecks Vision is currently in beta and is only available on iPads. Feedback on this feature can be sent to fdvision@vald.com.
To take advantage of the newest features, ensure you have the latest version of ForceDecks iOS installed on your iPad.
---
Step 1 - Enable ForceDecks Vision
Log in on the ForceDecks iOS App.
Navigate to Manage > Recording.
Ensure that Enable ForceDecks Vision is set to Yes.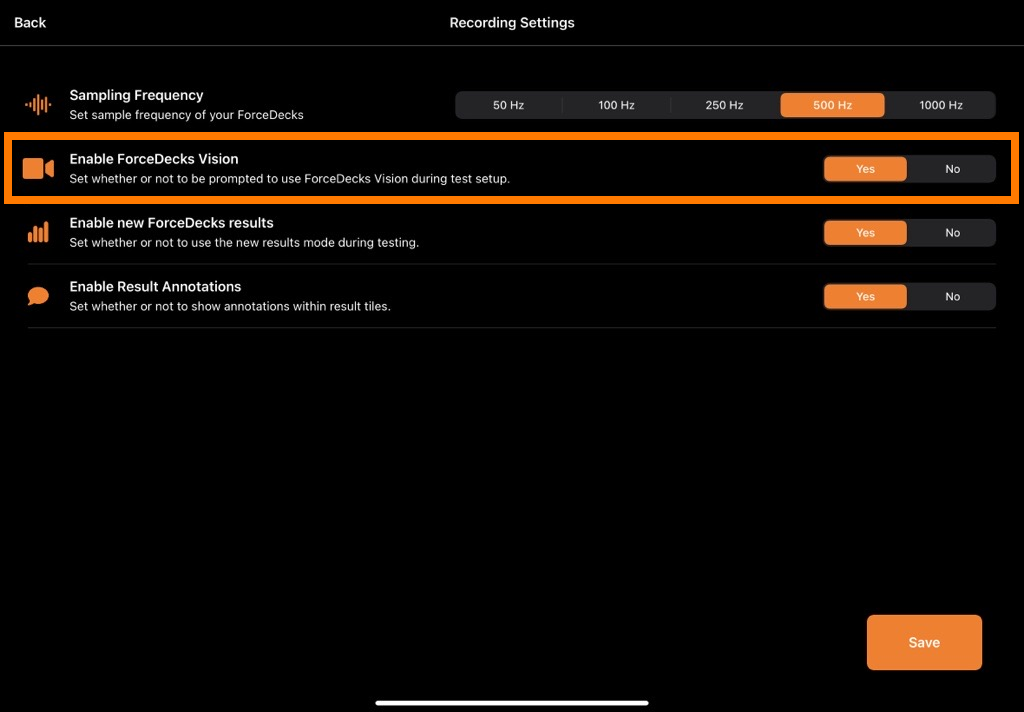 Click Save.
---
Step 2 – Test Setup
Go to Test.
Ensure the ForceDecks plates are turned on, and you are located near the plates to ensure a strong Bluetooth connection. (If required, refer to Bluetooth Connection Guide.)
Select your ForceDecks plates.
Go to Profile.
Select a Profile. (Ensure that "Allow Photo and Video Recording" has been allowed for that Profile. This setting can be changed by editing the Profile.)
Go to Test Type.
Select Auto-Detect or select Pre-Select and scroll down to select the test type.
Go to Tags.
Add or Manage Tags, as required.
Go to Video Recording.
Select On.
Move the device and change its orientation so the Profile is appropriately captured by the camera.
Select Start.
---
Step 3 – Adjust the location of the ForceDecks Vision preview
Drag the ForceDecks Vision preview box around the screen to your preferred location.
The ForceDecks Vision preview box can be swiped off the screen to hide it entirely, or swiped onto the screen to bring it back.
---
Step 4 – Zero Force Plates
Ensure nothing is touching the ForceDecks.
Click Start to zero the ForceDecks plates.
---
Step 5 – Weigh Profile
Ask the Profile to assume the starting position on the plates and to remain as still as possible.
Note: ForceDecks will automatically begin to detect the individual's weight after zeroing. If you skip weighing you can re-weigh the individual during the test recording. Learn more about Weighing Profiles in ForceDecks iOS App.
---
Step 6 - Recording a Test
Instruct the individual to perform the required test protocol (refer to ForceDecks Test Protocols).
Once the required reps are completed, click Stop.
---
Step 7 – Reviewing the ForceDecks Vision results
Click the video camera button on the left side of the screen to view ForceDecks Vision results.
Select a rep to view with the square icons at the top of the screen.
Select a key moment or phase to view from the list on the left side of the screen.
Start or pause the video by tapping it.
Drag your finger left or right on the video to rewind or advance the video.
Tap the left or right side of the video to rewind or advance by single frames.
Change the playback speed of the video via the button the bottom right corner.
---
Step 8 – Uploading test results to VALD Hub
Click Finish.
If required, click on tests to change test type, or reps to discard reps from results.
Click Upload to upload tests to VALD Hub and ForceDecks.