ForceDecks offers several loaded tests, where the test can be performed while holding an additional external load (weight). It is important to follow the correct protocol while performing these tests to get accurate results.
Tests
The following ForceDecks tests can be performed with an external load:
Loaded Countermovement Jump
Loaded Squat Jump
Push Up
Squat Assessment
Single Leg Squat Assessment
Protocol
Loaded tests in ForceDecks are performed as follows:
1. Loaded Countermovement Jump
2. Loaded Squat Jump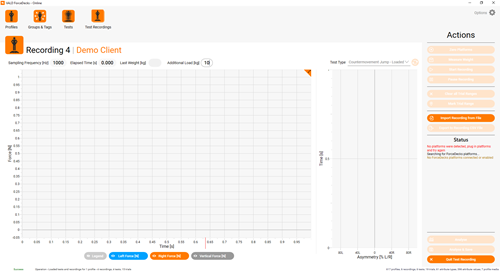 3. Zero the force plates
4. Measure bodyweight
* Do not hold the external load while measuring bodyweight
5. Start force recording
6. Pick up the external load
7. Complete the test protocol as usual while holding the additional load
* For best results, stand completely still for 2-seconds while holding the load prior to each rep.
ForceDecks will calculate the exact mass of the external load by subtracting the resting weight prior to each test to the measured bodyweight, this means for best results it is important to record an accurate bodyweight.