ForceDecks Jump, test sequences can be created to run multiple test types in one recording.
When creating a sequence, the following details can be added to specific tests:
Drop height - Drop Jump (DJ)
Load weight - Loaded Countermovement (LCMJ), Squat Jump (LSJ) or Squat Assessment (SQT)
Specific limb – Single limb tests
Number of top hops to be analysed – Hop Test (HJ)
To create a Test Sequence:
Log in to ForceDecks Jump
Click the Auto button


Create Sequence:

Enter a sequence name
Select each test type to be included in the sequence
Confirm relevant details for each test type (e.g. specific limb, drop height, load weight)
Add Test Tags
Click Done
Click Done to confirm or or Create another test sequence

Note: Test Tags selected at this stage will apply to all the tests. Tags can be assigned to individual tests after testing, prior to saving results.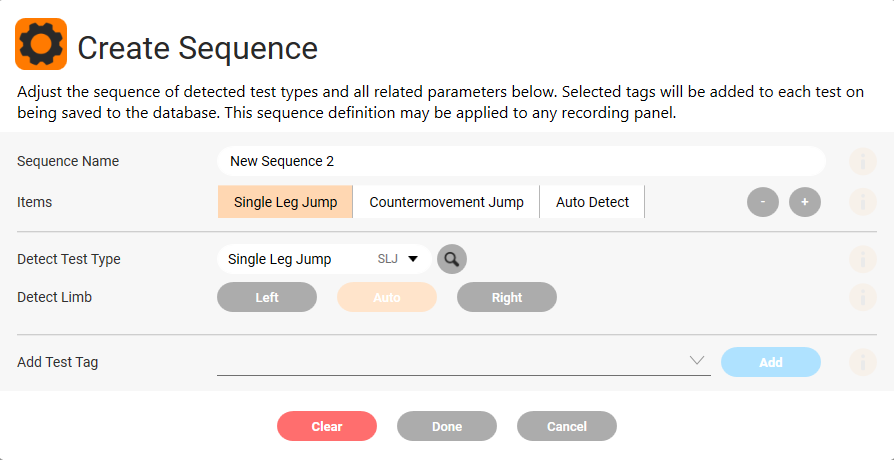 To apply a Test Sequence:
Select all profiles for testing. Double click on each profile name to select
Apply Test Sequence:

To apply to an individual profile - Click None
To apply to all selected profiles - Click Auto

Select a Test Sequence from the drop-down
Click Done

Next Step:
Run Tests in ForceDecks Jump or Run Simultaneous Tests in ForceDecks Jump