Hardware Components
The SmartJump system includes 1 timing gate and 1 portable jump mat. The system consists of the following hardware components:
1 x Portable Jump Mat
1 x SmartSpeed Dash timing unit 
1 x Reflector  
2 x Tripods 
1 x 5V USB charger  
1 x Dash hard travel case (stores up to 2 timing gates)
The SmartJump System is the same as SmartSpeed Dash System with the addition of a Portable Jump Mat.
Additional SmartSpeed Dash Systems and Portable Jump Mats can be be added to the SmartJump system.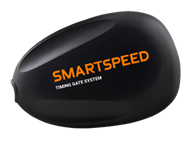 Portable Jump Mat
The Portable Jump Mat includes a PS2 connector that plugs into the timing unit.
Timing Unit
The SmartSpeed Dash timing unit includes a speaker that provides an audible signal to athletes and coaches.
Turning on
When the timing unit is turned on, the unit will produce a loud audible beep and project a laser beam.
The laser beam must be aligned with an adjacent reflector to stop the beeping.
Note: When a timing unit is connected to a Portable Jump Mat, it does not need to be aligned with a reflector.
Command unit
Any Dash timing unit can be assigned by a user to act as the command unit for the SmartJump and SmartSpeed Dash System(s).
The command unit uses two in-built devices to:
IEEE 802.15.4 - to communicate between timing units; and
Bluetooth - to communicate to a mobile device (SmartSpeed app)
A SmartSpeed Dash command unit can communicate with up to 9 timing units.
TIP: Keep the command unit within 10-20m of your mobile device for optimal performance.
Button functions
Button
Action
Unit Response
Purpose
Power / Reset
Press once and release
LED Display lights up, power / reset indicator LED turns red,
buzzer may sound if not aligned with reflector
Turns unit on


Press and hold (for 2 seconds)
All LEDs turn off
Turns unit off
Press and hold (for 10 seconds)
Power / reset indicator LED on back unit turns on
Resets the unit
Bluetooth LED
Press and hold (for 3 seconds)
Button will turn green and unit will emit a triple beep
Initial pairing of command unit to your mobile device


No action
Button flashing blue
Unit is waiting for Bluetooth connection
No action
Button solid blue
Unit is connected to Bluetooth
Channel
(CH) / ID
Press once and release
Displays current channel and ID settings
Check current unit settings
Press and hold (for 3 seconds)
Unit will triple beep, channel and ID buttons will begin flashing
Enter channel or ID setting mode
Press once and release (when button is flashing)
Channel or ID display number will change
Change channel or ID setting