VALD Hub is the central platform that connects with each VALD system and corresponding data capture application. Adding users in VALD Hub provides access to features such as conducting and reviewing results for test sessions and creating patient or athlete profiles. VALD Hub users can also prescribe exercise programs, educational material and questionnaires to patients using TeleHab.
You must have the User Management permission enabled to create users.
To add a new user in your VALD Hub organisation:
Log in to VALD Hub. If you are linked to more than one organisation, click your name in the top-right and click Change Org to ensure you are logged into the correct location.
Navigate to Management in the left navigation bar, then click into the USERS tab.
Click the button in the top-right.
Enter in the user's Given Name, Family Name and Email.
Set up the appropriate permissions for the user.
Click the button to save your new user.
The new user will then receive a welcome email, where they can create an account password and complete their sign up to VALD Hub.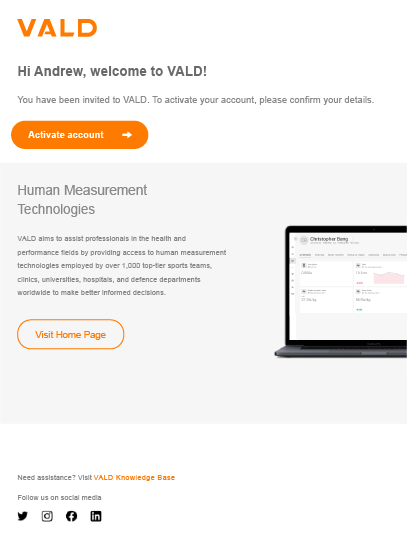 ---
If you have the User Management permission enabled, you can also edit and delete users in your VALD Hub account.