SmartScan (RFID) can be used on any SmartSpeed Plus, Pro, or Dash timing unit. With SmartScan (RFID), athletes scan a reusable RFID wrist band before they commence a drill. As each wrist band contains a unique ID number, this scan enables the SmartSpeed app to identify the wearer. 
Assigning RFID wrist bands to athletes must be done prior to a session using VALD Hub on your computer.
---
Set up SmartScan (RFID) in VALD Hub prior to your session
Connect the PC-RFID reader to your computer.
Log in to VALD Hub.
Select Management in the side navigation bar, then go to the GROUPS tab.
Select an existing Group of athletes or create a new Group.
Click in the top right.
With your cursor in the RFID field for the relevant athlete, scan the RFID band using the PC-RFID reader. The unique ID for the RFID wrist band will now display against that athlete.
Repeat step 6 for each athlete.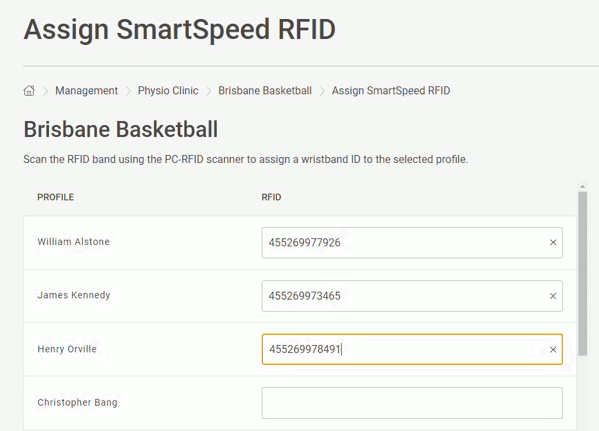 Once complete, click the button.
You are now ready to start a session using your SmartScan RFID bands.
---
Use SmartScan (RFID) in your session
Connect the SmartScan RFID reader to the timing unit at the start of your drill (SmartSpeed Plus or SmartSpeed Dash) or to the SmartHub (SmartSpeed Pro) using the PS2 connector.
In the SmartSpeed or SmartSpeed Plus app, select RFID in the Profile selection when setting up your drill.
Profile selection in the SmartSpeed Plus app

Profile selection in the SmartSpeed app

In the new SmartSpeed Plus app, you will be shown a list of all athletes that currently have an RFID band associated with their profile in VALD Hub.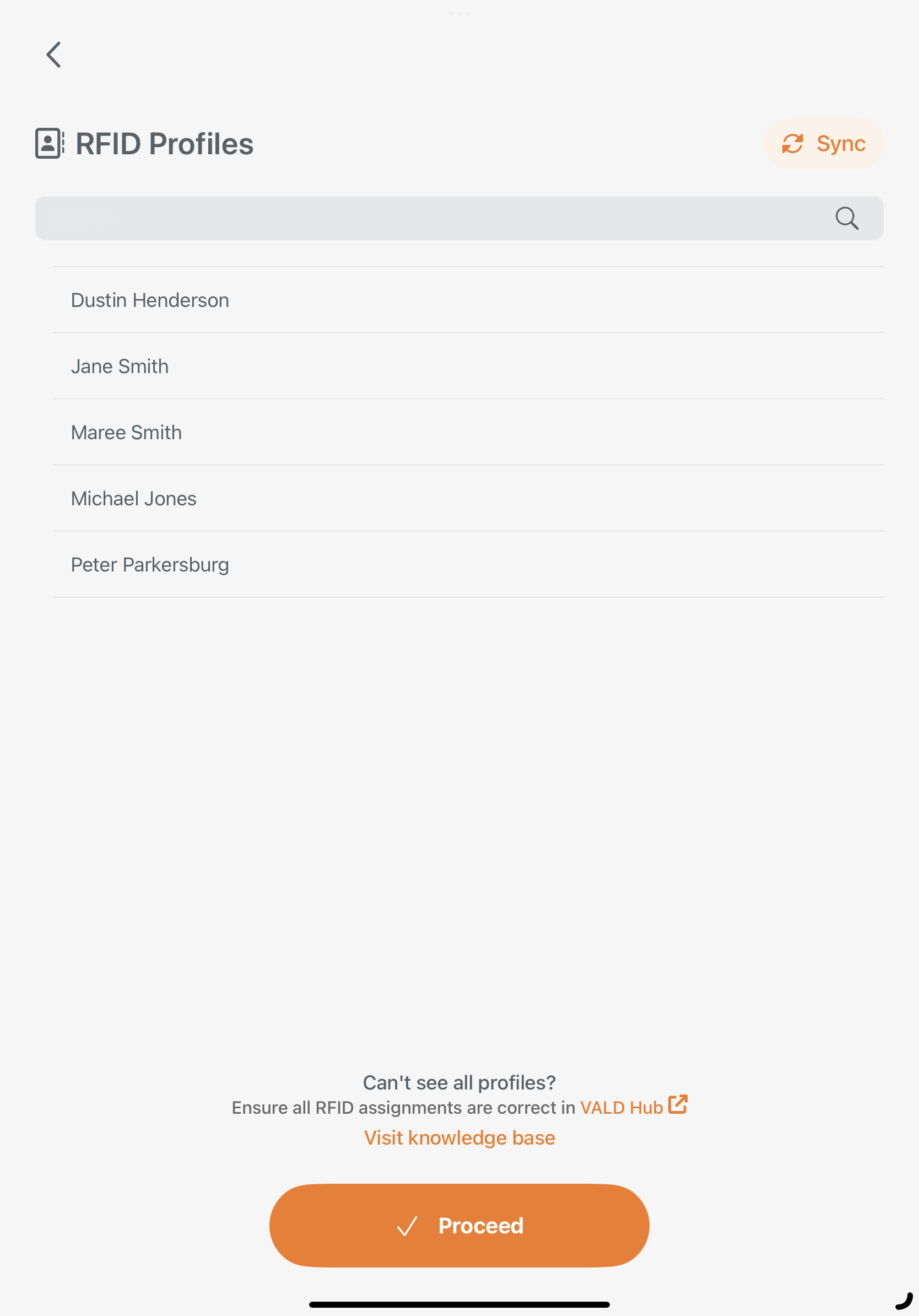 You can click Sync in the top-right to refresh your list of profiles.
If you have reviewed and are happy with the presented list, click the

button, then click Ready to begin your drill.
If you cannot see all athletes in your list, ensure you have assigned all RFID bands correctly in VALD Hub using the steps above.
Before starting, each athlete can simply scan their unique RFID wrist band to queue their profile, then break the beam of the first timing gate to commence the drill.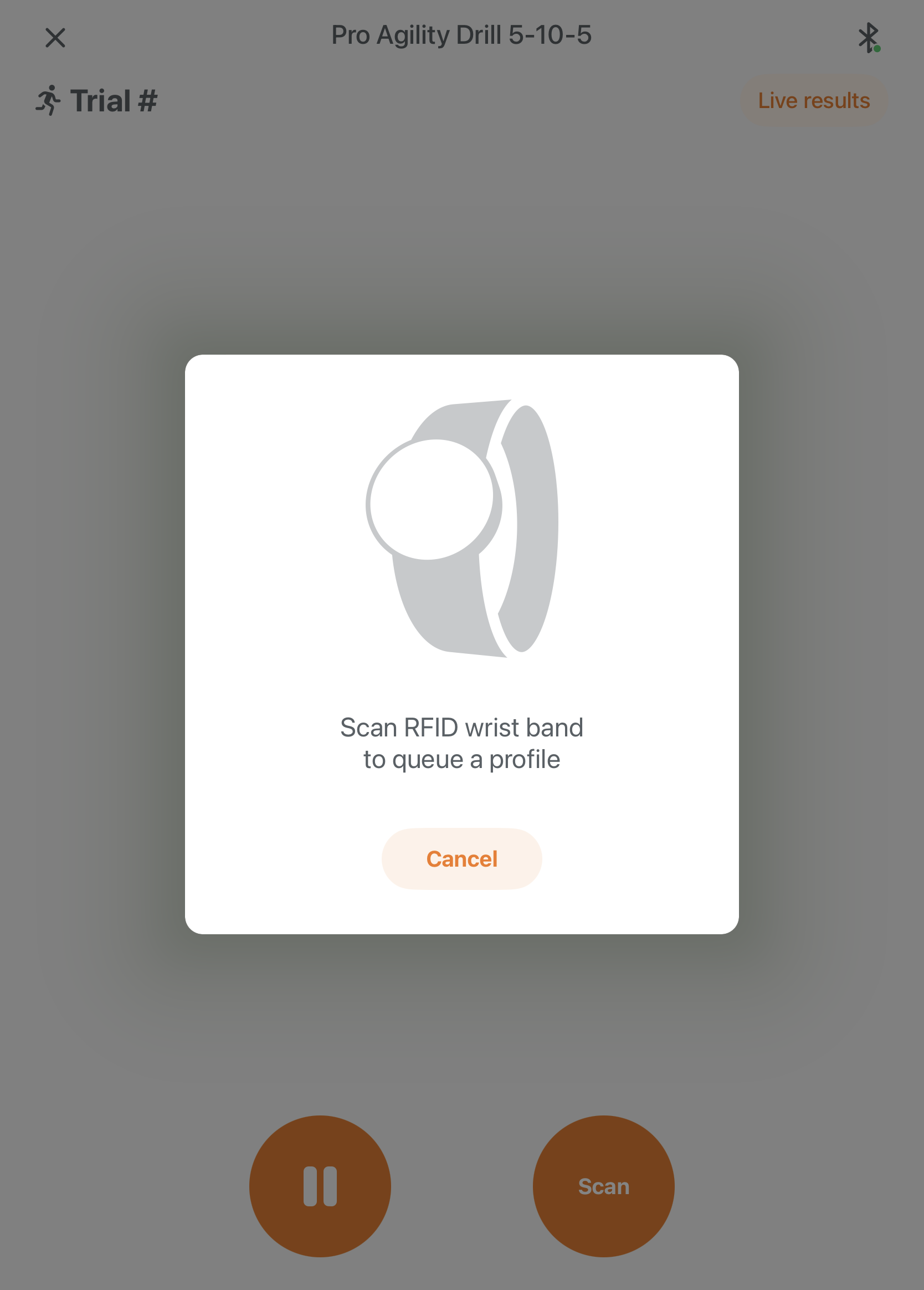 Getting an error when an athlete scans their RFID wrist band? Visit our troubleshooting guide.